The Splendor of Cobra Kai Jacket
Do you remember the wondrous love of everyone for the epic movie The Karate Kid? That association exists still to date. Amazingly, the same storyline-based TV show Cobra Kai also placed a special place in audiences' hearts across the globe. This American martial arts comedy TV series is an outstanding one that is getting much applause over the world. This comedy Kung Fu series started with season 1 in 2018, and to date, season 5 is entertaining the world with great interest and storyline. Besides the great texture of humour, perfect acting and action sequences, and prominent storyline, this series's sartorial range also caught people's attention. The ensembles include Karate shirts, jeans, jackets and especially Cobra Kai Jacket. This particular jacket has made a special place in lines of panache and ruling the internet successfully.
The same ignition of action and adventure brought by the wonderful movie Karate Kid can also be seen in this TV series. After 34 years, two opponents are meeting together by destiny, and here, the Cobra Kai karate dojo has to reopen with different challenges. Not only youngsters but all genders and age groups love this series. This TV show has a massive fan following.
The leatherz.com brings you this splendid jacket in the best quality as promised. Besides the available material, we are always open to customization. You may choose what you desire. Transform your reel look into real life and grab this fantastic piece in dressing the best of spending cost now.
The Stunning Cobra Kai Jacket
The costume designer Frank Helmer has given his exceptional skills while designing the outfits of this series, especially the Cobra Kai Jacket. Undoubtedly, all attires of this series, including every season, are par excellence, and people follow them. Still, the Cobra Kai jacket outfit wins a unique stand-out. Let's explore the prominent features of the Cobra Kai Jacket's splendour and how you can dress it with an alluring style.
This particular outfit is worn by one of the main leads of this series, Johnny Lawrence. As Johnny Lawrence, the American actor William Zabka has worn this magnificent jacket which has become a sensation so far. Johnny is one of the main lead antagonists of this series who, after 34 years of losing the tournament again, jumped into karate. This exceptional jacket brings out the series styling show of all outfits. Undoubtedly, every costume of this show contains high fashion; still, this Cobra Kai Jacket attired by Johnny is remarkable. Let's explore the startling special features of this iconic jacket.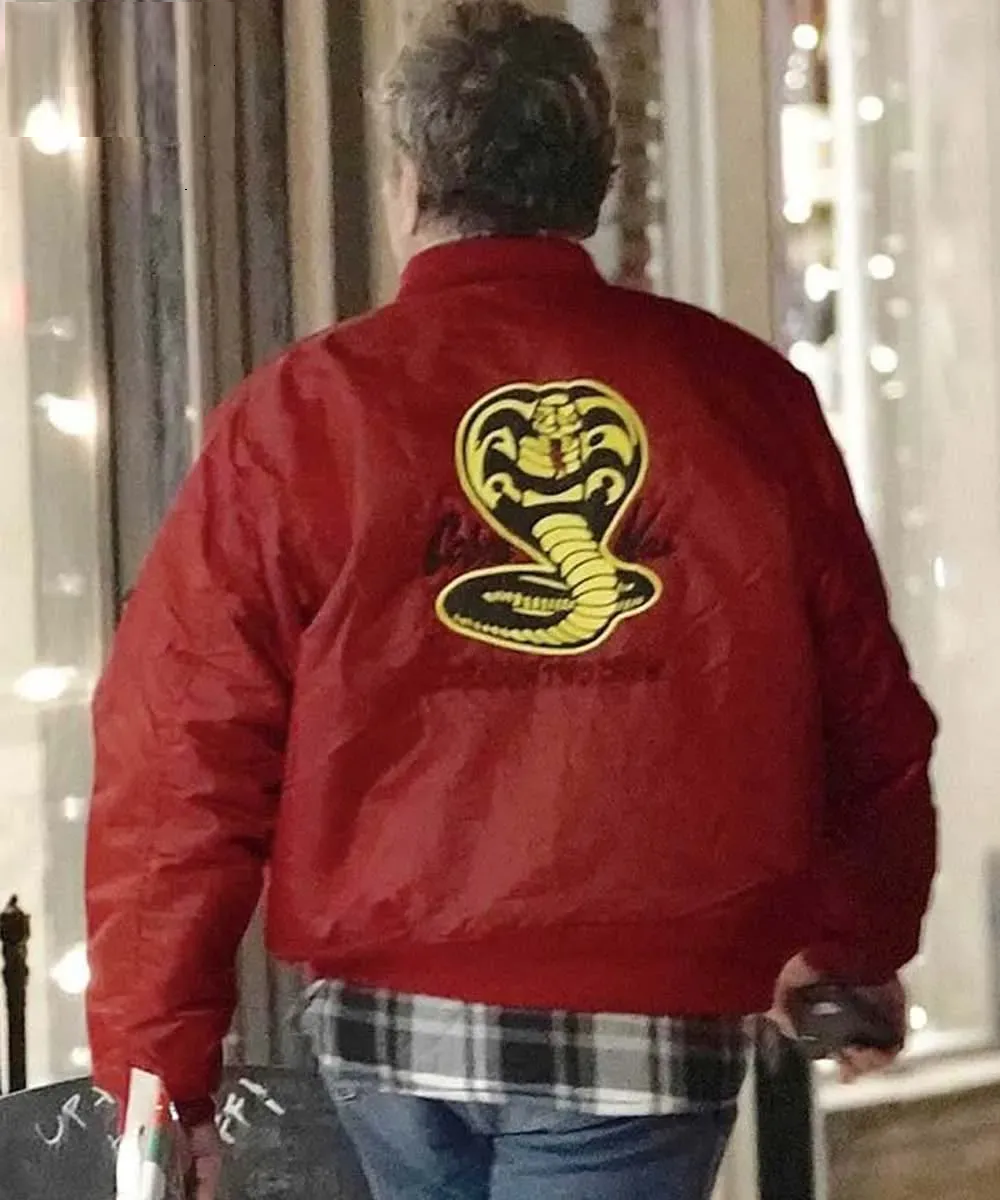 The ravishing red color
The Cobra Kai jacket comes in the captivating color of red, which is the top attractive feature of this jacket. Further, this color makes this outfit suitable with various options to wear and style perfectly with grace and poise. You can have a black, white or any color shirt inside with a matching pair of jeans and footwear and here you with a sporty look. Yet, different platforms are introducing this iconic jacket in different colors, like black, which is not looking bad in it.
The noteworthy logo
The logo of the cobra at the chest side in the prominent hue of yellow is a notable portion of the jacket which also enhances this outfit's sexy and charismatic factor.
The stand-up belted collar
The collar style of this jacket comes in a stand-up belted version and hence stays as the best attribute of it.
Fine Stitching and Material
Besides these excellent jacket features, the fantastic front closure in zipper and button forms make this an essential piece to wear with attitude and confidence. The material for crafting this fabulous jacket is faux leather; otherwise, you can choose the fabric of your choice.
Halloween Fit
Attire this Cobra Kai jacket on Halloween and slay the glances with your energetic vibes. This jacket is a sure outfit to wear with class and grace for a perfect appearance on Halloween Eve.
Why wait? Order now and explore a robust style within you by garbing this masterpiece!